NEW SCIENTIST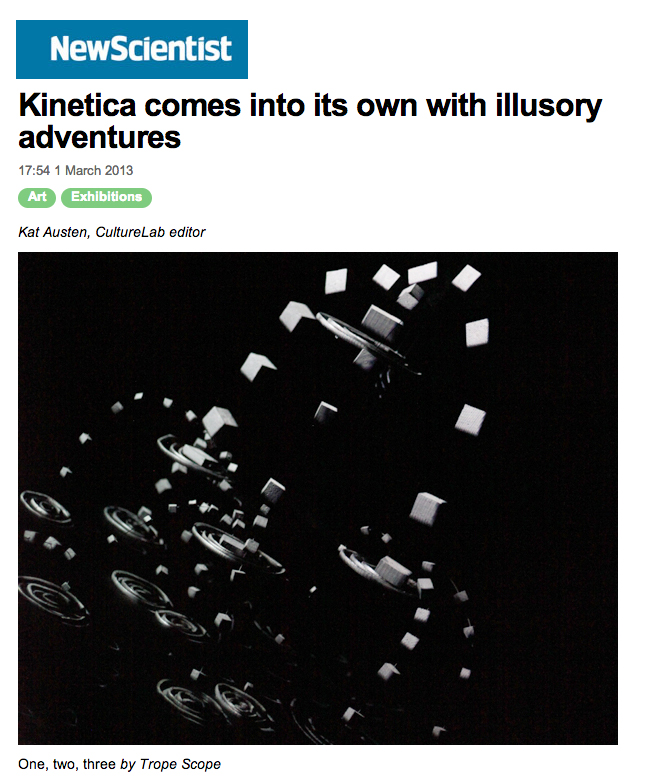 "Kinetica comes into its own with illusory adventures" Kat Austen' New Scientist CultureLab editor' March 1' 2013
Quotes from the article:
"Taking things a step further' Trope Scope present One' two' three' a sculpture-cum-experiment that comes out of the multidisciplinary Diasynchronoscope Project at Goldsmiths' University of London." 
" Designed by artists Carol MacGillivray and Bruno Mathez as part of the project' the piece is used to investigate how our brains construct a continuous visual stream from discrete objects…
One' two' three… is a stunning piece of art in its own right. It combines audio-visual elements that nod to MacGillivray's experience in animation with a sculptural element that brings the projections into the realm of the real."
Read the full article HERE
_____________________
BLUE PRINT MAGAZINE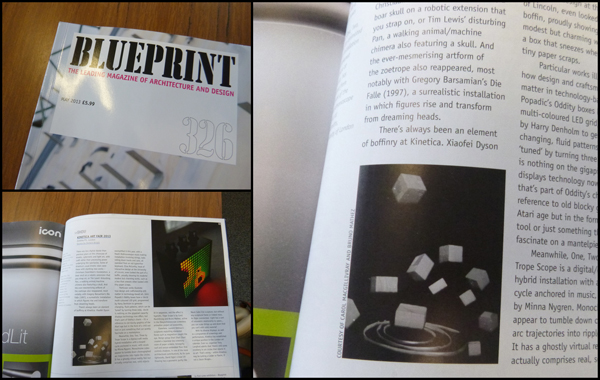 Quotes from the article:
"One' Two' Three is one of those things that needs to be experienced in situ. (…)  It has a virtual reality feel but actually comprises real' solid objects lit in sequences' and the effect is hypnotic."
Read the full article HERE
(Also available on the printed version of the Magazine' April 2013' issue)
_____________
"… Conversio by Trope; a mind blowing kinetic AV piece" Design Week Magazine. Full Article HERE
_____________
WOLF OLLINS
Quotes from the article:
"We' like so many other visitors to Kinetica' were so enthralled with their work that we invited them to Wolff Olins London to hear more."
"As with much sensorial artwork' especially one like Trope's' which is in a continual state of evolution' it is nearly impossible to capture the essence of it through film or photography. If you have an opportunity' we strongly recommend you to see the work in situ. "
We did  a talk on the 3rd April 2013' Talk at Wolf Ollins' (International brand consultants)' London.
To read what they said about the talk' click here
__________
DAVINA JACKSON'S BLOG
Davina Jackson is an international writer and promoter of progressive ideas and talents' based in Australia and the UK. More infomation about Davina click HERE
Read the article HERE
__________
MAURA MACDONNEL'S BLOG
Maura McDonnell is a visual music artist' visual music researcher and part-time lecturer based in Ireland. More infoamtaion about Maura's visual music work click HERE

Read the article HERE
__________
SPOONFED
"It's always a good idea to keep a careful eye out at Kinetica as there's every chance you May miss something. I only noticed this as I was just about to leave. Follow the arrows on the floor of the mezzanine over to the corner. Step into the blackness behind a dark curtain and be entertained and intrigued by MacGillivray and Mathez' Gestalt Circle' a kind of illusory zoetrope for the technological age."
Read the full article HERE
____________________________
ANIMATE PROJECTS OBSERVER
"A fantastic work which explores early animation techniques. Gestalt Circle utilises processes to direct the audience's attention to the action presented. In essence the work comprises of a series of objects arranged in a dark space which are then illuminated in sequence giving the impression of movement. Read the theory behind the piece."
Read the full article HERE
__________________
THE LONDON WORD
"One of the things I enjoy the most about art is the way it can make us question the reality of what we are seeing. This could be simply how the artist has put brush to canvas to capture a particular moment or feeling' the baffling intricacy of their technique or even the mechanics behind their process and it's asking questions like this that allow you to engage with the art…
… Gestalt Circle used sequential lighting to illuminate white cups in quick succession presenting the illusion that the cup was flying across the room. This visually captivating installation-cum-experiment demonstrated the trickery we fall victim to when watching film – a reminder of the practical science lying behind our art."
Read the full article HERE