"[It is] just a different kind of embodied visual experience that isn't part of your every day life – that's what made it interesting to me as a theorist about embodied motion and embodied perception – full stop!"
"For me it invokes a sense of magic' of other worldiness' that I haven't seen or experienced in an artwork before."
Prof Mark Bishop
Professor of Cognitive Computing' Goldsmiths' University London
Chair of the UK Society for the Study of Artificial Intelligence and the simulation of Behaviour (AISB)
________________________
"The big problem with screen based media is that the work has been done really (although still exciting etc) you are doing something which I think needs to be – one which is exploring a physical aspect of visual music and audiovisual composition – because you're thinking about space' which is much more interesting' embodied and exotic."
Dr Mick Grierson
Experimental Artist
Real-Time Interactive Audiovisual Research' Goldmiths' University London
________________________
"It felt like a water-colour; a painting experience coming alive"
Irini Papadimitriou
Head of New Media Arts Development' Watermans
Digital Programmes Coordinator' V&A
________________________
"I thought it was beautiful' completely unexpected' I was confounded by it because sometimes the linguistic information contradicted what I was seeing visually."
"It seemed more sophisticated as a piece' as an entire theatrical cinematic experience; something between a theatrical and an animated experience."
Dr Eleanor Dare
Fine Artist' Lecturer'
Skillset Media Academy
________________________
"In a world of digital animated special effects we're expecting the highest quality of experience' so to be in a room with something so analogue and so physical was a total surprise."
"Your biggest powerful move here is foreground and background' because in animation on a screen' however clever it is at pretending to have depth; it's flat. Whereas here' as those objects move towards me and back I felt that!"
Prof. Andrew Shoben
Artist' Greyworld
Fellow of the Royal British Society of Sculptors
Fellow of the Royal Society of the Arts
Overview and background
We finished our last experiment with the technique (Prism) with the words: "To make good art using the medium' we need to be in command of it." This is what we set out to do in Arc3.
As our confidence grew with our technique' we became keen to test some of our artistic abilities with the medium. Arc3 represents a real attempt to create art that is more layered and has a deeper contextual content than previously. We had already decided that the sound would be integrated better if we started with audio and then animated to it' there is a rich history of this in animation' from Silly Symphonies and fantasia' to the visual music of Norman McClaren and Len Lye.
We had also established that simple forms were better for carrying our ideas and explorations in this new medium. The major themes that we were keen to exploit were a full use of sound-track that integrated with our visuals in space-time' and the power of three. This last was a major interest to us as both experimenters and animators: we had observed that many perceptual experiments dealt with two objects of attention' and involved lengths of flicker between these biinary components. Fundamental to the Diasynchronoscope is that two objects are not enough to establish a direction for the eye to follow' however three objects create a direction' starting the eye off in smooth pursuit.
The simplicity of enunciating these three objects and playing with the space created and order they were shown in became the seed for Arc3. With Arc3 itself forming a part of a future' bigger art installation for Kinetica in February 2013'. because we now had a studio it was now possible to work with greater attention to detail' and build through an artwork to improve it generatively.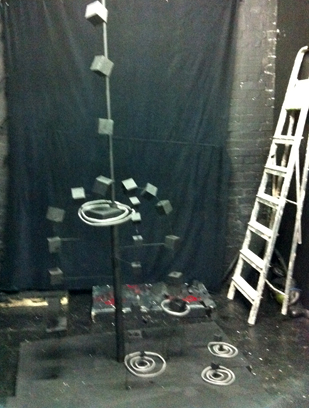 Early version of Arc 3 made in response to the first sound track
We started with a sound track that explored the rhythms of a single voice saying 'One' Two' Three''
and after the sound grew organically to a pleasing rhythm (ie one we were happy with)' we set out to animate cubes (the simplest diasynchronic platonic form) to this sound track. There was an immediate pleasure in being forced to fit the visuals in space to a conceptual form already present in the audio. We started with dropping a larger cube and had it bounce and break up into progressively smaller cubes (3 each time) using the animation trope of squash and stretch to help the eye. There was an ambiguous mix between the animated bounce which generates a veridical level of perception and the break up of a cube into three other smaller cubes – we guessed that the animation trope would carry this mix of imagined' almost cellular division through the concept' particularly as it was reinforced with the sound and this proved to be the case. Having achieved this' we were keen to push the concept further.
The idea of animation embodying a 'spark of life' has always been central to our diasynchronic work. We had already decided that space being manipulated as space-time to create a feeling of three-dimensional movement was so fundamental to the medium that we would exchew exploring flat (2D) projection changes. In Arc3 we pursued this concept of 'spark of life' in two ambiguopus but complimentary paths.
1) The idea of a simulating literal sparks as in arc welding' with the cubes move in arcs as sparks do.
2) Recreating the feel of Rob Marv's 'Primordial Soup' theory where simple organic compounds are created spontanously from inorganic precursors. (in particular the Miller Urey experiment in 195' where the three-fold mixture of methane' ammonia and hydrogen under conditions posited by the Oparine-Haldane hypothesis form amino acid. The power of three.)
This last required another anomally: were we dealing with sparks' platonic solids' cell division or 'soup'. Because the only true reality in the medium' is the one that we create' we added ripples' indicative of the 'soup' element at each bounce. Again we were trusting to the medium's unique ability of combining animations' synchronised sound and veridical perception to carry a viewer through without questioning this ambiguity. It appears that we are beginning to master the medium as this did indeed pove to be the case. No-one questions that cubes divide into cubes' or that objects both bounce and subside into ripples.
Technical methodology
Technically the ripples are of great interest because they are not platonic solids' instead they function more as painterly circular 'splines'. Also' as with Gestalt Circle' they carry attributes of transference from one object (the cube) to another (the graduated ripples).
(although in the Gestalt circle this transference was from the same object' from cup to cup' and was substantiated by a movement change from Phi to Beta and vice versa not by object and direction change).
The ripples were made by cutting foam insulation hosepipe into strips: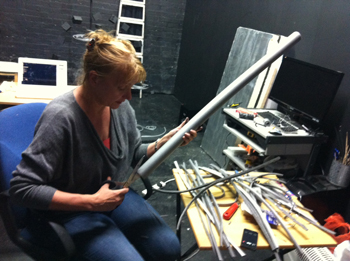 And then joining them in circles of progressive size: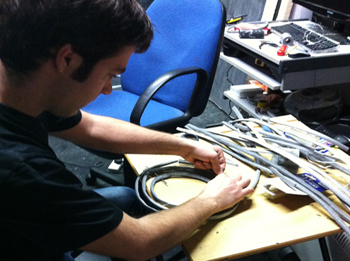 They were very fiddly to map' but added new literal' tonal and conceptual dimension to the artwork.
The ripples are also the first objects that we have used in the Diasynchronoscope that are not painted black. On the down side' this means that they are first to appear when the viewer's eyes become accustomed to the dark' but on the plus side' they 'pop' visually which makes them appear more painterly.
Each cube was lit for a single frame (at 25fps) except for the 'squash' cubes which were held for 3 frames. The ripples were more of combination of Phi and Beta movement (rather like the triangles in Prism) where each ripple was held for 6 frames with a fade-in and fade-out filmic trope and overlaps with each other and the descending cube.
Observation
After surmounting the ambiguities of spark/bounce/soup we decided we could push both sound and medium further as the artwork progressed. It was beginning to feel like we were working with the medium' and not fighting it. We recorded some more sound with Minna Nygren to add levels of light and shade. As always we were keen to preserve the embodied assets of the medium in the sound by using predominantly vocal sounds for the track. Minna did a great job' providing ambiguous 'breathy' notes for the ripples that sounded both ethereal and embodied at the same time.
Once we had these new sounds' and after establishing the initial visuals' we decided we could afford to start to play with them both retrotropic movement. (in a previous paper CM has coined the term 'retrotropic' to describe how a subject perceives a reversal of time's arrow specifically through running various experimental film clips backwards.) We played with reversing gravity and another pleasing animation trope of reversing exploded graphics to convergence. Now we have our studio we can finally ask people to come and see an artwork as it progresses. Conscious that we might be too close to the work' we were keen to get in experts from various fields to see if all our ambiguities were working as well as we thought and to record a genuine' visceral response to artwork the medium. We would like to acknowledge the generosity of these experts in coming to see the work.
Mark-Bishop from Bruno Mathez on Vimeo.
Prof Mark Bishop
Professor of Cognitive Computing' Goldsmiths University London
Chair of the UK Society for the Study of Artificial Intelligence and the simulation of Behaviour (AISB)

Dr Eleanor Dare
Fine Artist' Lecturer'
Skillset Media Academy

Douglas Dodds
Senior Curator
Word and Image' V&A

Dr Mick Grierson
Experimental Artist
Real-Time Interactive Audiovisual Research' Goldmisths University London

Irini Papadimitriou
Head of New Media Arts Develoment' Watermans
Digital Programmes Coordinator' V&A

Prof. Andrew Shoben
Artist' Greyworld
Fellow of the Royal British Society of Sculptors
Fellow of the Royal Society of the Arts
Robin-Smith from Diasynchronoscope on Vimeo.
Prof. Robin Smith
Emeritus Professor of Physics
Imperial College London
Reflection and Conclusions
As always with the Diasynchronoscope we have discovered more things. The mixture of ripples and cubes have added a new dimension' and we feel that the integration of sound and visuals in space has brought a new sophistication to our work and opened up new opportunities for investigation. There is an interesting new area to be explored in terms of Types and Tokens' of naming objects and subverting the naming through juxtaposition of sound and visuals' or sound and space. We are also very much enjoying finding new ways of running the experience as a narrative (over a loop as in Gestalt Circle) and subverting space through integration of retrotropic movement.
We will now use Arc3 as a basis for our artwork at Kinetica: 'One' Two' Three…'